8 Crazy Nights of Carnival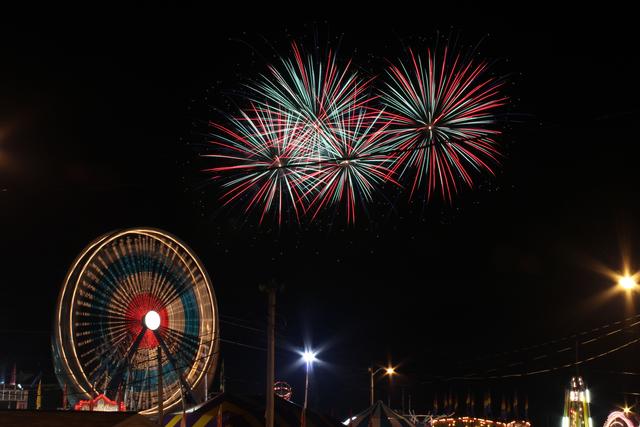 May 25-June 1
---
Gun Safe Raffle
Click on pictures for more details and tickets
Gamber firefighter Pat Livesay inspects an out-of-date smoke alarm prior to installing a new device in a Deer Park Estates residence. Dan Nicholson assists.

Smoke Detector Walk

APRIL 26 - Members of the Gamber & Community Fire Co. canvassed the Deer Park Estates neighborhood in Finksburg on Sunday, April 21 and again on Thursday, April 25.

In the wake of three house fires since February, officers of the fire company decided to do a "Smoke Detector Walk" in the community that is located off of Deer Park Rd. None of the three houses had working smoke detectors.

During the Sunday ... (Full Story & Photos)

2012 Awards Presented at April Meeting

APRIL 16 - The Gamber & Community Fire Company presented honors and awards to its members for 2012 after the regular company meeting on Monday, April 15, 2013.

Tim Brown was presented with the prestigious Gerald L. Lindsay Memorial Firefighter of the Year Award for 2012. Mike Sullivan was presented the Herman Hoff Memorial Award for outstanding service in fund raising. Chad Hastings was honored as the Administrative ... (Full Story & Photos)

Assistant Chief Tim Brown (center) was presented with the Firefighter of the Year Award by Chief Charlie Green (l) and President Dale Bollinger (r).

Fire showing from the front window of the Doe Dr. house as a crew prepares to enter. One hose line has already advanced into the house. Photo by Jeff Krichten

THIRD BASEMENT FIRE

APRIL 14 - Gamber & Community Fire Co. and neighboring units were again alerted for a house fire at approximately 9:35 on Sunday morning, April 14, 2013. The fire was located on Doe Drive in Finksburg. This is the third basement fire to strike the same neighborhood, Deer Park Estates, since February.

Firefighters in the Medic Unit and Engine arrived shortly afterwards and reported fire showing from a basement ... (Full Story & Photos)

Dive Team Conducts Training Exercise

APRIL 07 - On Sunday morning April 7th, the Gamber and Community Fire Company Dive Team conducted a training / recovery exercise in the pond at Creeping Creek Farm in the Manchester area of Carroll County.

The farm belongs to a member of the team, Dan Ruhlman. He asked if we would be interested in diving in their pond that was alongside their disc golf course to recover lost discs from players. So team members ... (Full Story & Photos)

Bartholow Road Woods Fire

APRIL 07 - An afternoon woods fire between two homes challenged Gamber firefighters on Sunday afternoon. Units were alerted for the fire at approximately 4:00 pm on a breezy, dry afternoon. Responding apparatus saw significant smoke from Klee Mill Road as they approached the scene.

The fire was contained to a 1/2 to 3/4 acre area between the homes located off of Bartholow Rd. and back a long common driveway. ... (Full Story & Photos)

Easter EGG-stravaganza Egg Hunt

MARCH 30 - The Easter Bunny visited Gamber Fire Co. on Saturday, March 30, 2013. Children and parents enjoyed the activities, games, food, and an Easter Egg Hunt on the carnival grounds.

The event was sponsored by the Gamber & Community Fire Co. Auxiliary.... (Full Story & Photos)

The Easter Bunny gets the crowd ready for the big Easter Egg Hunt on the carnival grounds!

Photo by Greg Syfert

AVIS COURT HOUSE FIRE

MARCH 23 - Gamber & Community Fire Co. and neighboring units were alerted for a house fire just about midnight (11:53 pm) on Friday, March 22, 2013. The fire was located on Avis Ct. off of Wilda Dr. in Westminster.

Gamber Fire Chief, Charlie Green, arrived first on the scene and reported a working fire with heavy fire showing.

A rapid intervention dispatch was alerted. This brought additional apparatus ... (Full Story & Photos)

Truck Fire

MARCH 10 - Shortly before 7pm on Sunday night, units from Gamber were alerted for the report of a truck fire. Engine 134, along with Medic 139 and Utility 13, responded to the call. Chief 13, on Engine 134, arrived and advised that they were on scene with the engine compartment of a pickup truck well involved. Engine crews put a quick knock on the fire before it engulfed the remainder of the truck. Carroll ... (Full Story & Photos)

Photo by E. Yingling

SECOND BASEMENT FIRE STRIKES NEIGHBORHOOD

MARCH 03 - A second basement fire struck the same neighborhood in less than a month. Gamber & Community Fire Co. and neighboring units were alerted for a house fire at 12:55 pm on Sunday, March 3, 2013. The fire was located on Fawn Way in a development called Deer Park Acres off of Deer Park Road in Finksburg.

Engine 134 arrived first on the scene and reported heavy smoke showing from the basement. A rapid ... (Full Story & Photos)

MVC Truck Into A House

FEBRUARY 17 - Gamber units were dispatched for a motor vehicle collision early Sunday morning at approximately 2:00 am. Units were advised that a vehicle had struck a house along Route 32, Sykesville Rd., just north of Arlington Drive.

Ambulance 139, LS 13, and Engine 134 responded to the scene and found a pickup truck had struck the front of a single story residence. The driver was not at the scene. Engine ... (Full Story & Photos)

Our primary mission is to preserve life, property, and the environment in that order. Our commitment to that goal and your support for us has brought the latest technology, training, and apparatus to the front lines to provide you with a better service.



( Pictures provided by members of the Gamber & Community Fire Co. unless otherwise noted. )