**IMPORTANT NOTICE**
MOST EVENTS ARE CANCELLED UNTIL JUNE 15, 2020
Please click this link for more information
---
Drive-Thru Pit Beef Sandwiches
June 13, 2020 12p - 6p (or until sold out)
Menu:
Pit Beef or Pit Turkey Sandwich $7.00 each
Sandwich, fries and one side $10.00
Fries $4.00
Quarts of Cole Slaw or Macaroni Salad $3.00
½ Gallon of Gamber Famous Iced Tea $3.00
Instructions: you will drive up to the True Cut Pit Beef Stand on the Carnival Grounds.
Please stay in your vehicle and follow the drive-thru traffic pattern. You will order and receive your order in your vehicle.
More information will be posted closer to the event.
---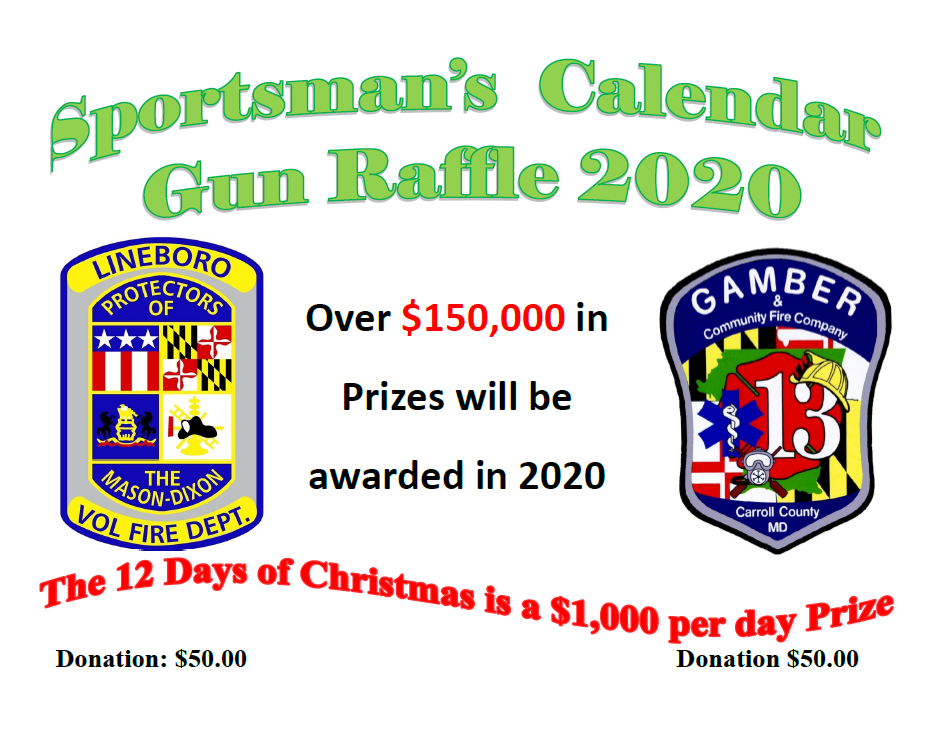 Click above for more details. Click Buy Now to Purchase
Divers get back in the water and new tenders in training

Chief Charlie Green Jr, May 27

On May 21, 2020 the Gamber & Community Fire Co. water rescue team held two trainings at the Liberty Reservoir in Sykesville.

We held a morning and evening training to give more opportunity to get people out to the water. Some newer divers had their first chance to get into water that they couldn't see more then a couple feet while getting used to the equipment we use. More experienced divers were ... (Full Story & Photos)



The new Ford F-350 pickup in its new colors and lettering and badging.

New Utility Vehicle Purchased

Public Information Officer Clay Myers, May 10

A new utility vehicle has been purchased by the fire company. It is in the process of being prepared to be put into service.

This purchase was voted on by the fire company membership back in 2019 and the vehicle was delivered at the end of February 2020.
The new truck is a 2020 Ford F-350, 4-wheel drive pickup with a crew cab and a short pick-up bed. It is powered by a gas engine and an automatic ... (Full Story & Photos)


Community Donations Appreciated

Public Information Officer Clay Myers, May 06

Gamber & Community Fire Co. is pleased to report that several generous donations have been made to on-duty members and employees of the fire company over the past several weeks. Large servings (enough to feed 12 people) of lunch were provided by the Eldersburg Chick-fil-A and by BGE in mid-April.

The Nathan Chris Baker Foundation donated pizzas for lunch on April 25.

Members of the Fire Company ... (Full Story)




Urgent Coronavirus Updated April 30th

Chief Charlie Green Jr, April 30

The Gamber and Community Fire Company is complying with Governor Larry Hogan's statewide order to cancel the hosting of large events because of the outbreak of the COVID 19 virus.

To that end, the Firehouse and Social Hall are closed to all visitors. All social and rental events at Gamber are postponed until atleast June 15. We will be reevaluating this as time moves forward as new information is ... (Full Story & Photos)

Carnival and Raffle Announcement

Chief Charlie Green Jr, April 28

Due to the Covid-19 virus we have decided to postpone our 2020 carnival. As of right now we are scheduled to hold a five day carnival from September 7 through September 12, 2020. Of course this is subject to the conditions in September.

Raffle tickets went out in the mail this past week. We will still hold the raffles. We will draw the winners on September 12 at the end of carnival. If the September ... (Full Story)





A Gamber firefighter practices search and rescue in the engine room. His face piece is covered so he can't see and must feel his way.

Training Continues Despite COVID-19

Public Information Officer Clay Myers, April 14

Several firefighters at Gamber participated in informal training last week. They conducted "Mayday" and "Search and Rescue" drills at the station in the main engine room.

Justin Kosmicki, Brandon Tignor, and Jack Betz participated and Andy Magness assisted.... (Full Story & Photos)


DUE DATE CHANGE - 2020 Scholarship Opportunity Announced -13th Year Serving the Community

Public Information Officer Clay Myers, April 01

PLEASE NOTE THAT THE DUE DATE HAS BEEN CHANGED TO MAY 15, 2020

The Oscar Brothers Memorial Scholarship Fund

BACKGROUND

The Gamber and Community Fire Company in cooperation with the Oscar Brothers family will once again be offering a four year college scholarship to a student who lives within the primary area serviced by the fire company. This scholarship will officially be known as the Oscar Brothers ... (Full Story)





Head-on Collision Forces Road Closure on Sykesville Road (Route 32)

Board of Director Bruce Bouch, March 09

Just after 6:00 PM, members and staff from Gamber and Reese Fire Departments responded to a head-on collision between a pick-up truck and a four-door sedan near the intersection of Sykesville Road and Cindy Lane. As result of the crash, both drivers were trapped inside their vehicles and crews used various hydraulic tools to extricate the patients. No other occupants were in either vehicle. The ... (Full Story & Photos)


Gamber Assists on Strawbridge Mansion Fire in Eldersburg

Public Information Officer Clay Myers, March 06

A major fire destroyed the Strawbridge Mansion on Friday evening, March 6. Gamber & Community Fire Co. assisted Sykesville Freedom District Fire Department on the fire with Engine 134 and Engine Tanker 133. Units from Winfield also assisted.

The call was dispatched at 7:55 pm as a possible house fire but it was almost immediately reported as a working fire since flames were visible from a distance.

Units ... (Full Story & Photos)



Photo by B. Myers


Deer Park Road Crash

Public Information Officer Clay Myers, February 04

A single vehicle crash occurred on February 3, 2020 at approximately 3:45 pm. Units from Gamber & Community Fire Co. were alerted and responded to the 2100 block of Deer Park Rd. in Finksburg.

Responders found a single car had run partially up a utility pole support wire. Electrical service was knocked out in the vicinity. There were no injuries in the crash. Units cleared after arrival of BGE.

Photos ... (Full Story & Photos)

Our primary mission is to preserve life, property, and the environment in that order. Our commitment to that goal and your support for us has brought the latest technology, training, and apparatus to the front lines to provide you with a better service.

( Pictures provided by members of the Gamber & Community Fire Co. unless otherwise noted. )